In some cases, you will need to complete a Wellness Questionnaire task to validate a Pass. The questionnaire will be a series of simple Yes / No questions.
Completing a Wellness Questionnaire for a Pass
📝
From the Action Required list on the Pass you want to complete, tap the Health Questionnaire button. This will allow you confirm that you have an existing health insurance policy that provides coverage for COVID-19 and related health issues.
The steps to add confirm Health Insurance coverage are as follows:
Tap to the Complete Questionnaire button.
The questions will vary depending on the destination you are traveling to. Read the questions carefully and select Yes / No depending on which is relevant to you.
Tap the Submit button.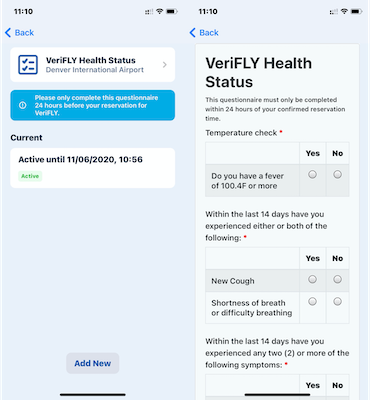 Once you have completed the questionnaire, the status of the task will move to the Active list on the Pass.
Please be aware that Health Questionnaires are only valid for a period of time determined by the travel destination.